Bloom Into You (やがて君になる, Yagate Kimi ni Naru? ) is a yuri manga by Nio Nakatani. The original manga began serialization in April 2015 and ended in September 2019. An anime adaptation by TROYCA it aired between October 5th and December 2018 28th. A side-story light novel by Hitoma Iruma has also been announced.
Summary
Yuu has always loved shoujo manga and awaits the day she gets a love confession that sends her heart aflutter with bubbles and hearts, and yet when a junior high classmate confesses his feelings to her... she feels nothing. Disappointed and confused, Yuu enters high school still unsure how to respond. That's when Yuu sees the beautiful student council president Nanami turn down a suitor with such maturity that she's inspired to ask her for help. But when the next person to confess to Yuu is Nanami herself, has her shoujo romance finally begun?

—Seven Seas Entertainment
Characters
Main article: Characters
Yuu Koito (

小糸 侑

Koito Yuu? )
Voiced by: Yuuki Takada

Yuu is the protagonist of the story. She is a first year high school student who doesn't know what it's like to fall in love. She joins the student council, where she meets Nanami. She works at the family bookstore.
Touko Nanami (

七海 燈子

Nanami Tōko? )
Voiced by: Minako Kotobuki

Touko is the student council president and a second year high school student. She hides her true personality and insecurities from everyone but Yuu. Her best friend is Sayaka Saeki.
Anime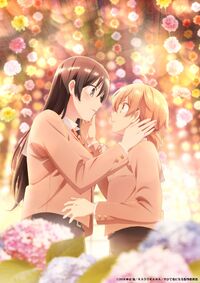 The anime adaptation of Yagate Kimi ni Naru is set to begin on October 5th, 2018. A preview was released in June 2018. It is licensed for release in the United States, Canada, Australia, New Zealand, the United Kingdom, Ireland, South Africa, the Netherlands, Scandinavia, Spain, Portugal, and Latin America by Sentai Filmworks.
Cast
Production
Based on the manga written and illustrated by Nio Nakatani and produced by TROYCA.
Music
Previews
Illustrations
Manga
Main article: Manga
The original Yagate Kimi ni Naru manga by Nio Nakatani began serialization in April 2015 in Dengeki Daioh, a monthly manga magazine published by ASCII MediaWorks (a brand of KODAKAWA).
To date, eight tankōbon volumes have been released under the Dengeki Comics label. It is licensed for release in English by Seven Seas Entertainment.
Volumes
Novel
A side-story light novel, entitled Bloom Into You – Regarding Sayaka Saeki (『やがて君になる 佐伯沙弥香について』, Yagate Kimi ni Naru – Saeki Sayaka ni Tsuite? ) by Hitoma Iruma with illustrations by Nio Nakatani was published on November 10, 2018. It focuses on the character Sayaka Saeki. A sequel to the novel was released on 10th May. It focuses on Sayaka and Touko in their first years.
A third light novel was release in March 10, 2020. focusing on Sayaka's university life.
Stage Play
A stage play adaptation ran in May 2019. A limited Blu-Ray release of the performance has also been announced, with a tentative release date of October 2019.
External links